Regular price
Sale price
£29.90 GBP
Unit price
per
Sale
Sold out
November Specials:
Free Shipping if you buy 2 or more Ointments 
15% Discount from the total price, if you buy 3 or more Ointments 
Share
View full details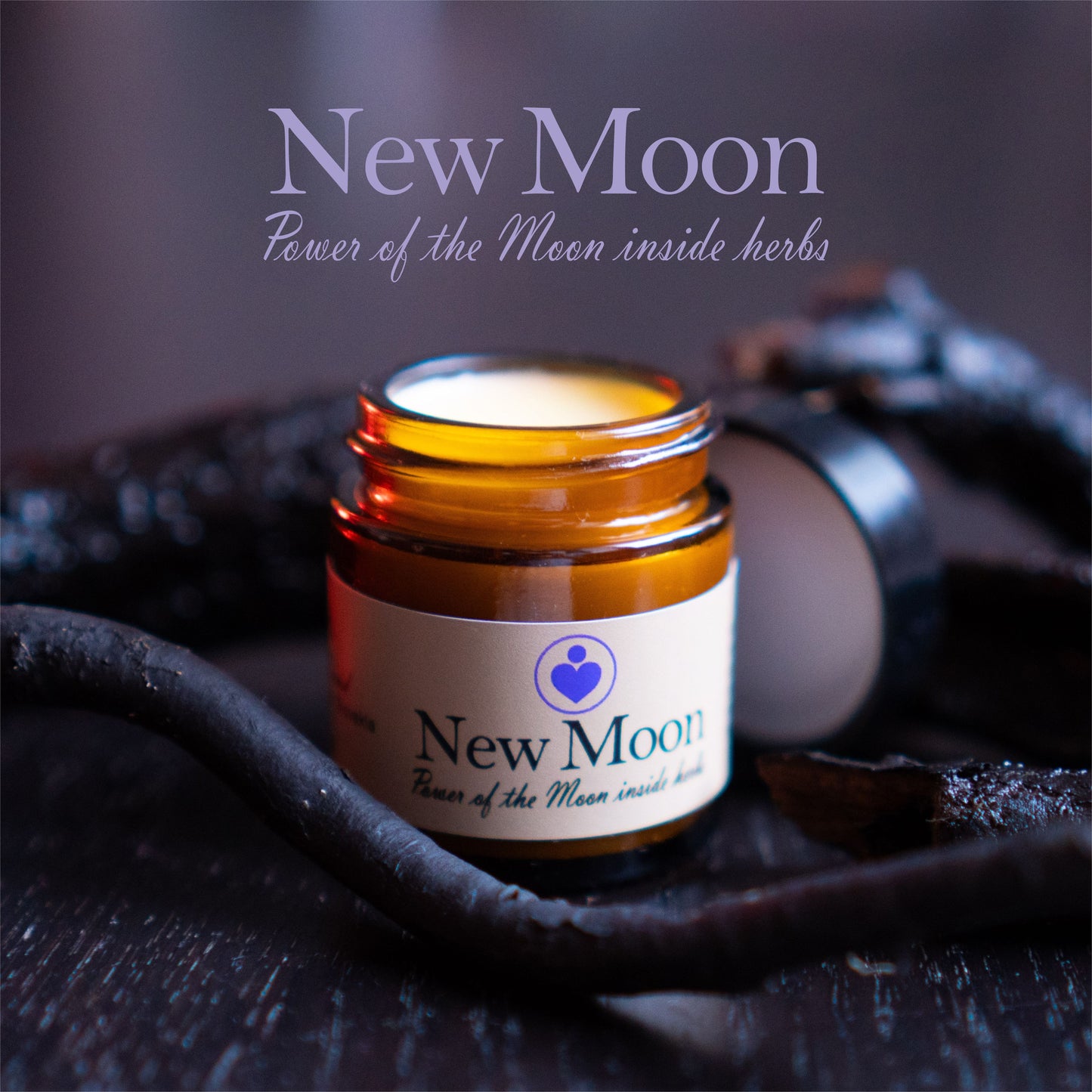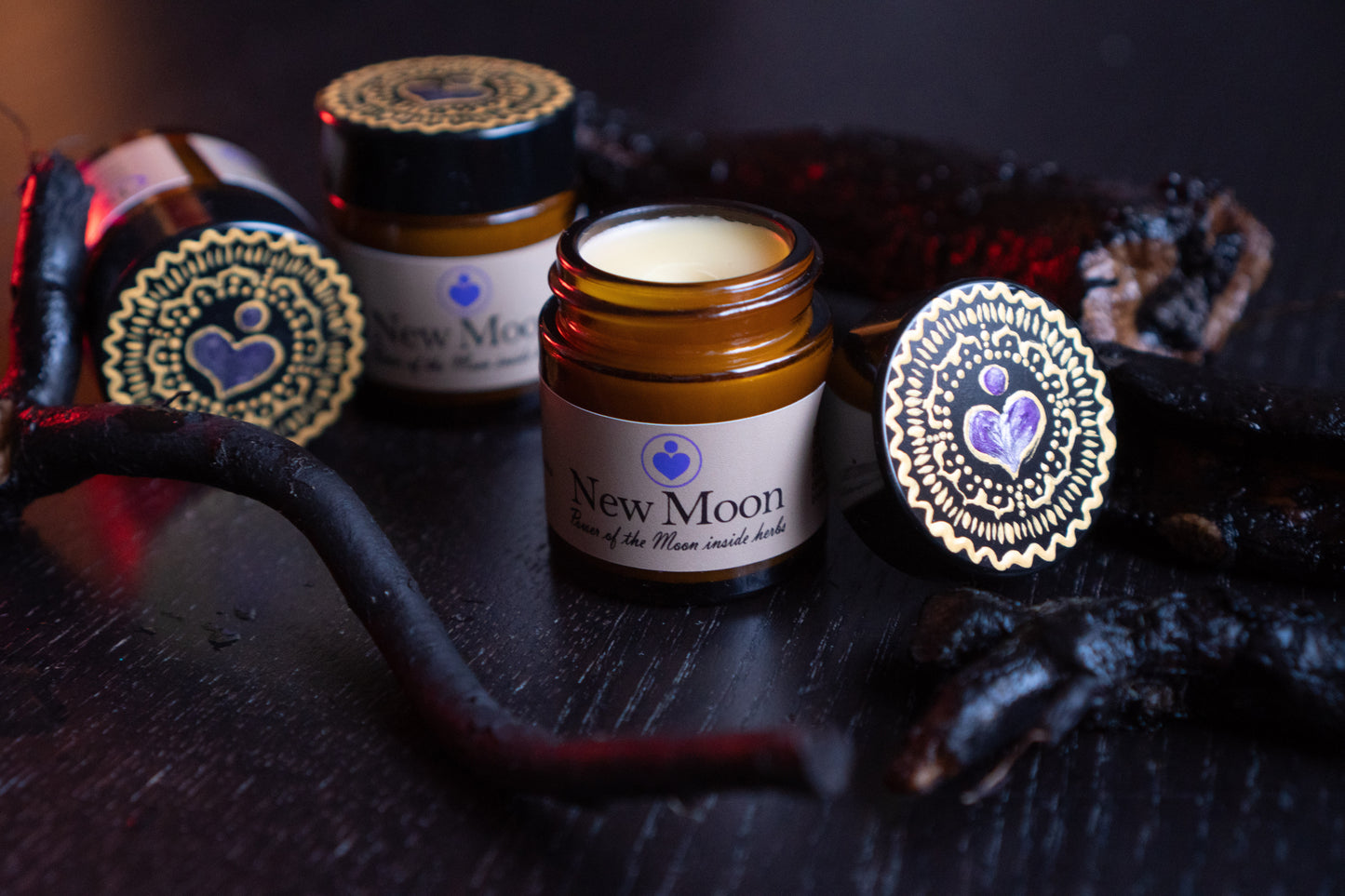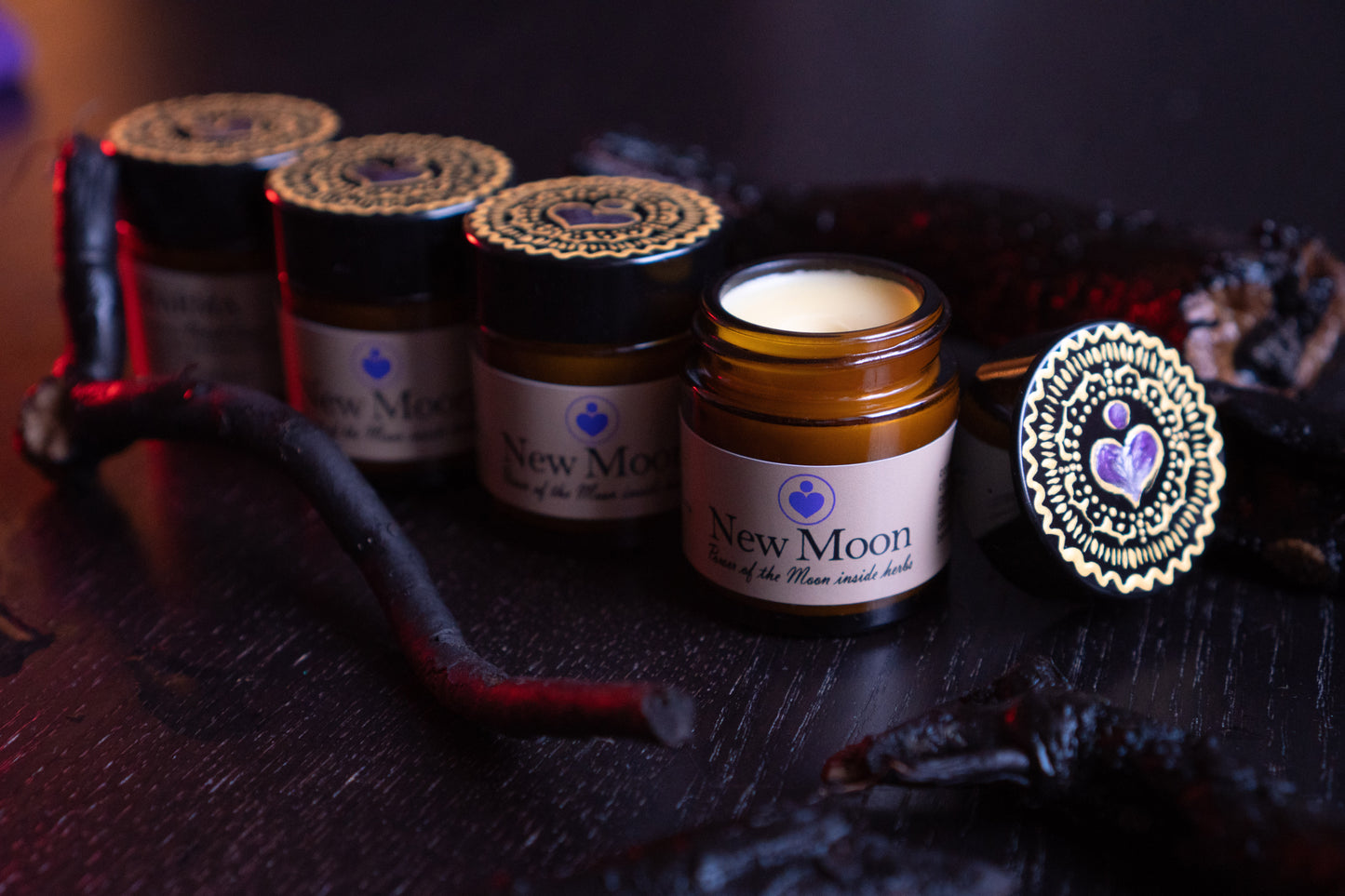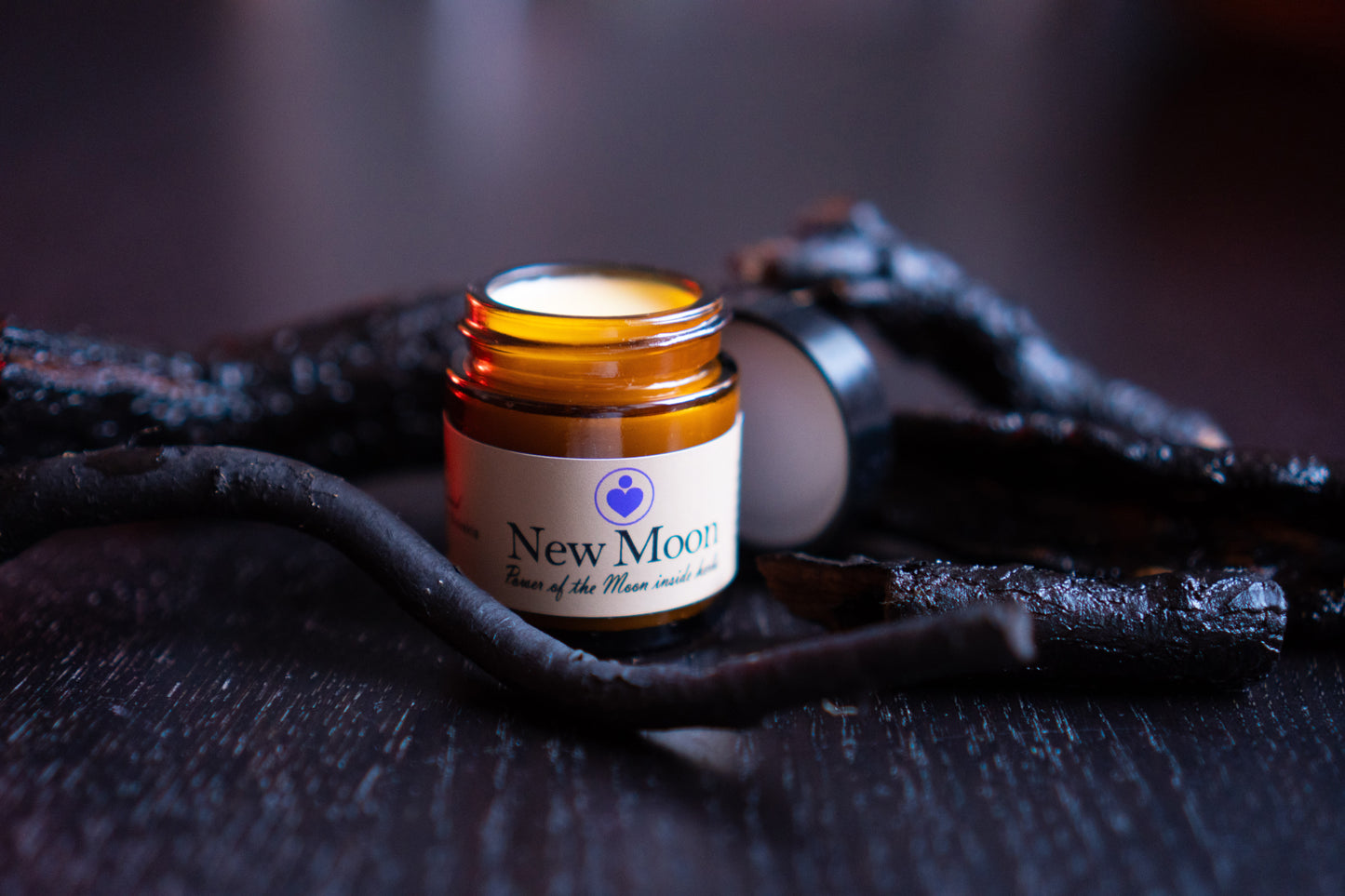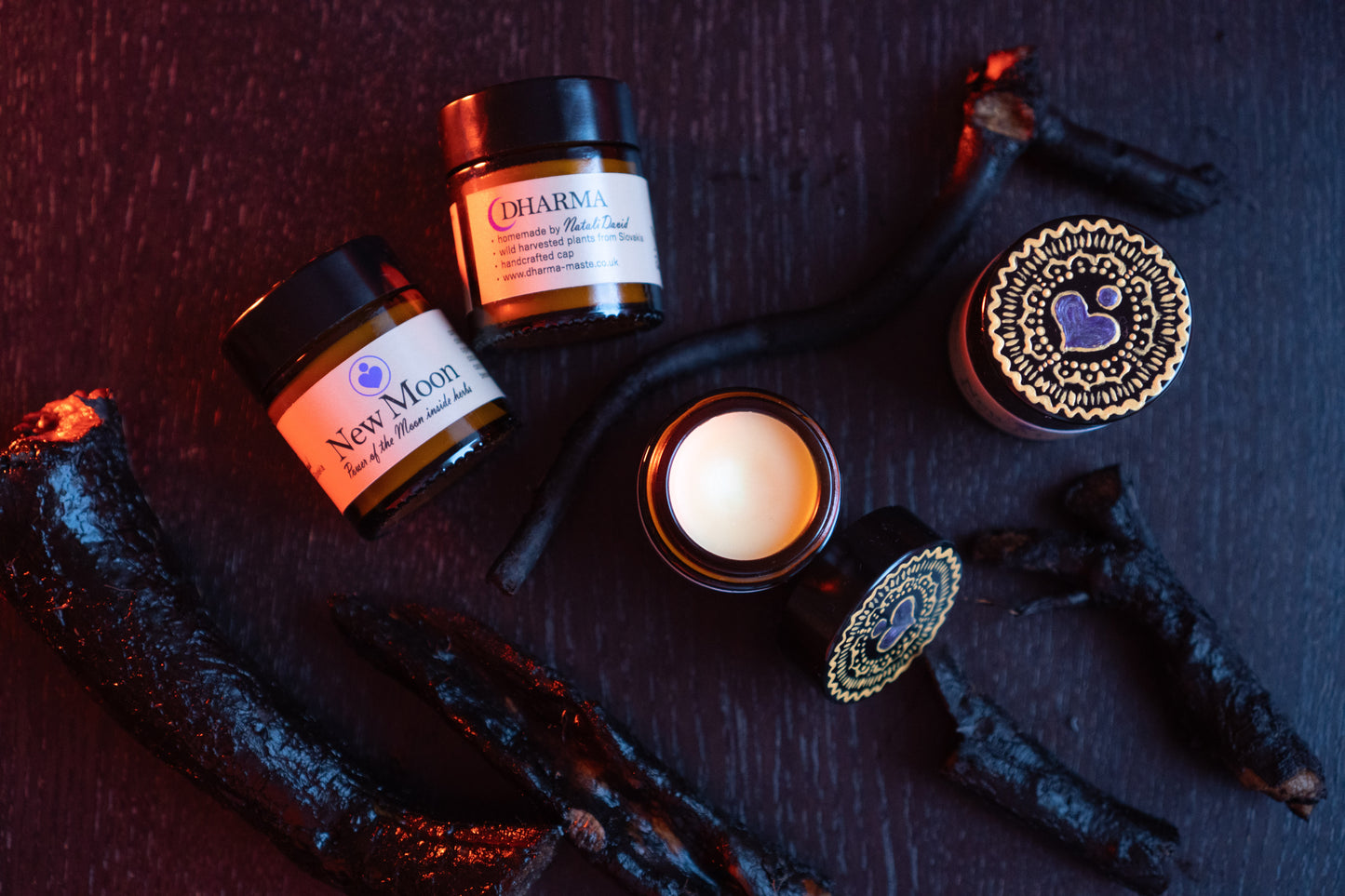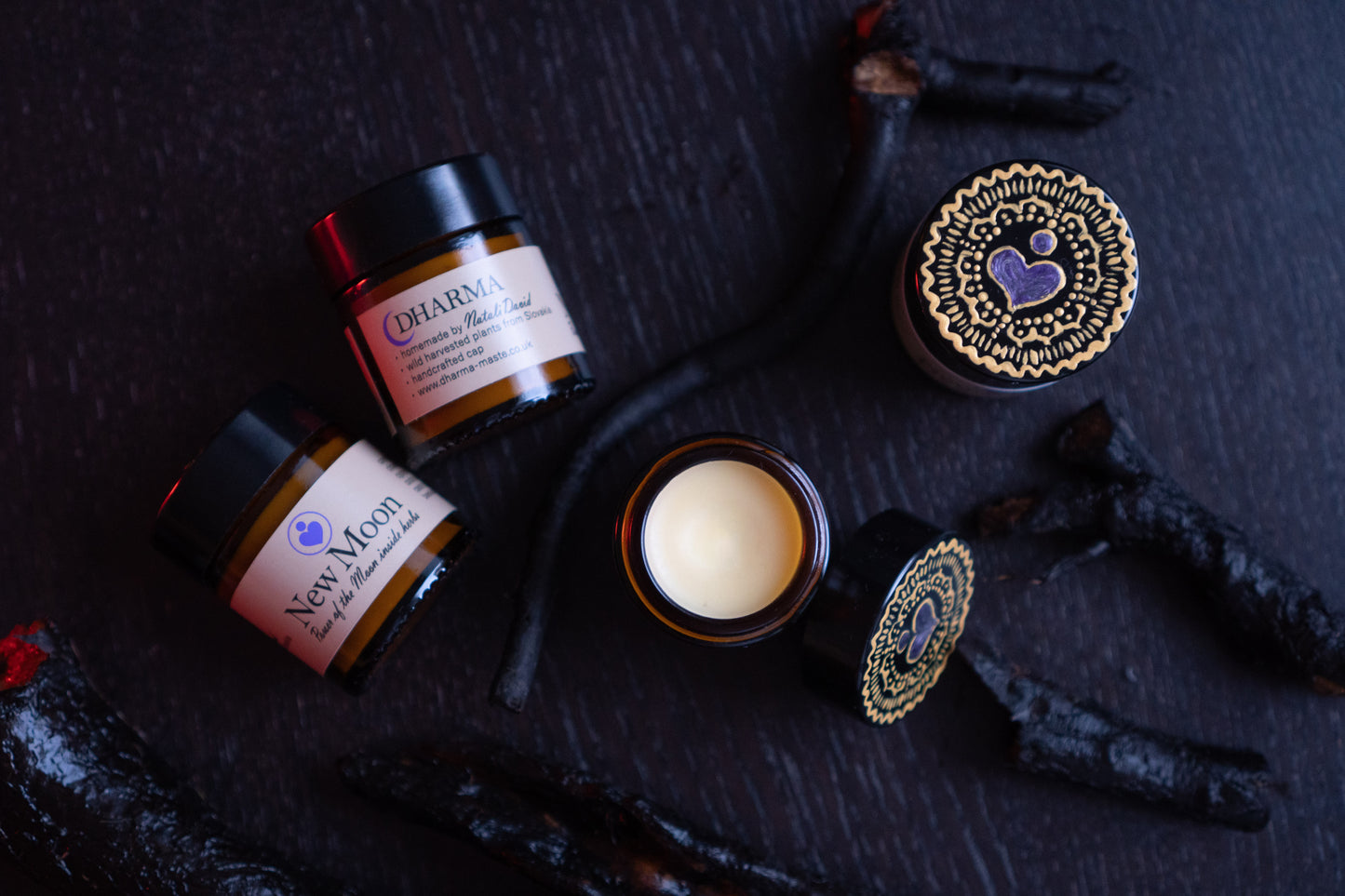 New Moon
~Stability ~ Reliability ~ Power ~
INTRODUCING NEW MOON: YOUR SOURCE OF STABILITY, RELIABILITY, AND STRENGTH
When the New Moon graces the night sky, it signifies a moment of purity, rebirth, and potential. It is also the perfect time for harvesting the potent roots that make our New Mon ointment truly exceptional. During this lunar phase, all the healing essences of herbs concentrate in their roots, and that is precisely what we have harnessed in this remarkable ointment.   
A MULTITUDE OF BENEFITS
New Moon ointment offers a wealth of benefits, poised to ease your discomfort, pain, rejuvenate your skin, and provide protection against harm. Our ointment aids in the regeneration of new skin cells and offers deep moisturization, making it the ideal choice for those with dry, rough, or sensitive skin. With its tightening effect, it serves as an excellent skin cleanser and is an effective solution for unwanted blemishes and dark spots. Key ingredient allantoin, derived from the medicinal comfrey (Symphytum Officinale L.), ensures gentle application even on the softest of children's skin.
 HEALING POWER FOR JOINTS AND BONES
New Moon ointment is not limited to skincare; it extends its healing touch to joints and bones. It supports cell regeneration and combats inflammation in cases of muscles strains, sprains, and fractures. This remarkable ointment also activates the regeneration and recovery of cartilage. Medicinal comfrey, enriched with vitamins and minerals such as vitamin C, calcium, and magnesium, strengthens and heals human bones. It alleviates rheumatism, gout, joint pain, and arthrosis. It also supports the healing of varicose veins, lymphatic inflammation, night sweats, eczema, and tremors. The remarkable healing effect of medicinal comfrey is attributed to the high content of allantoin, a natural antibiotic with potent bactericidal and anti-inflammatory properties.
THE POWER OF ESSENTIAL OILS
Our ointment is enriched with essential oils that further enhance its therapeutic qualities.
Clove essential oil (Caryophyllus aromaticus) brings antibacterial and antifungal effects, making it an excellent remedy for various pains from rheumatism, gout, and arthritis. It removes fungus and heals canker sores. It is also a powerful repellent. The main component of cloves is eugenol, and it has long been used in dentistry and medicine to numb the gums and to treat tuberculosis. Aromatherapy – Clove: Intense sweet-spicy aroma will strengthen you mentally, support your sleep, and sense of security and safety.
Cypress essential oil (Cupressus sempervirens) is celebrated for its antiseptic, anti-inflammatory, anti-allergic, and repellent properties. It supports the circulatory system, alleviates issues such as heavy legs, and it aids in the proper flow of lymph in the body. Aromatherapy – Cypress: Grounding woody scent relieves emotional stress, quickly calms your mind, and energizes you. It can help you regain joy and clarity in times of sudden changes, making it a valuable companion when seeking assistance on multiple levels.
PURE INGREDIENTS FOR YOUR WELL-BEING
New Moon ointment is crafted with care, using only the finest ingredients.
Castor oil effectively combats skin inflammations caused by bacteria, yeast, or viruses and is quickly absorbed, offering relief for dry and cracked skin. It is known to assist with conditions like arthritis, gout, osteoporosis, rheumatism, and joint pain. It also removes mold.
Cocoa butter, known for its superb moisturizing properties, contains a plethora of antioxidants and is rich in vitamin E. This vitamin soothes and hydrates the skin, promoting collagen production to prevent wrinkles and other signs of aging.
GROUNDED IN NATURE
New Moon ointment is not just a product; it is a journey of healing, deeply rooted in the wisdom of Nature!
Collapsible content
Ingredients

comfrey ~ symphytum officinale
clove ~ syzygium aromaticum
cypress ~ cupressus sempervirens
cocoa butter ~ theobroma cacao
castor oil ~ ricinus communis
beeswax ~ cera alba
How to use

New Moon ointment is designed for both day and night care of the skin, making it perfect for your neck and your entire body. Apply on clean, slightly damp skin, using gentle, circular motions to massage the ointment into your face, neck, or any other part of your body.
Whats in the box

Homemade Ointment by Natali David
Handcrafted cap
40ml glass jar
Customer feedback about New Moon 
"I want to express my heartfelt gratitude for this
miraculous ointment. I suffered a collarbone injury and I had to use a splint
and screws. New Moon ointment has been my companion since day one, and my
doctor is amazed. Even the scar is almost invisible. Thank you for your
existence ."
"New Moon helped alleviate my lower back pain. Thank
you "
"Thank you very much for New Moon! It helped heal
a barley in my eye!"